This connector is used to provide extra 12 volt power to PCI Express expansion cards. Many video cards draw significantly more than 75 watts provided by the motherboard slot, so the 6 pin PCI Express power cable was created. This is an 8 pin version introduced with the PCI Express 2.0 specification released in January 2007. These high-power cards draw most of their power from the 12 volt rail so this cable provides only 12 volts. These are sometimes called "PCI Express cables". They are also occasionally called "PEG cables" where "PEG" stands for PCI Express Graphics.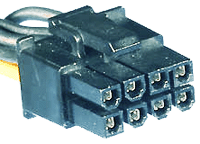 8 pin PCIe power connector at the cable.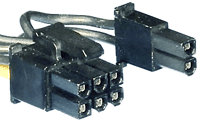 6+2 pin PCIe power connector at the cable.
| Pin | Name | Color | Description |
| --- | --- | --- | --- |
| 1 | 12V | yellow | +12 V |
| 2 | 12V | yellow | +12 V |
| 3 | 12V | yellow | +12 V |
| 4 | GND | black | Ground |
| 5 | GND | black | Ground |
| 6 | GND | black | Ground |
| 7 | GND | black | Ground |
| 8 | GND | black | Ground |
References