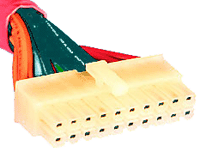 ATX ver. 1.x 20 pin connector at the power supply cable
ATX ver. 1.x 20 pin MOLEX 39-29-9202 connector at the motherboard
ATX power connector on the motherboard consists of two rows of 10 pins. This connector from the ATX power supply can only be fitted in one way
| Color | Pin | Name | Description | | Color | Pin | Name | Description |
| --- | --- | --- | --- | --- | --- | --- | --- | --- |
| orange | 1 | +3.3 VDC | Power +3.3V | | orange | 11 | +3.3 VDC | Power +3.3V |
| orange | 2 | +3.3 VDC | Power +3.3V | | blue | 12 | -12 VDC | Power -12V |
| black | 3 | GND | Ground | | black | 13 | GND | Ground |
| red | 4 | +5 VDC | Power +5V | | green | 14 | PS-ON | Remote Power ON/OFF |
| black | 5 | GND | Ground | | black | 15 | GND | Ground |
| red | 6 | +5 VDC | Power +5V | | black | 16 | GND | Ground |
| black | 7 | GND | Ground | | black | 17 | GND | Ground |
| grey | 8 | PWROK | Power Good | | white | 18 | -5V | Power -5V |
| purple | 9 | +5 VSB | +5V Standby | | red | 19 | +5 VDC | Power +5V |
| yellow | 10 | +12 VDC | Power +12V | | red | 20 | +5 VDC | Power +5V |
Notes
/PSON activated by pressing and releasing the power button while the power supply is in standby mode.
Activating /PSON connects the power supply's /PSON input to ground, thereby switching the power supply to full-on condition.
18 AWG is recommended for all wires except pin 11, which should be 22 AWG.
For 300W configurations 16 AWG is recommended.
Connector part numbers
Motherboard connector: Molex 39-28-1203
Cable connector: Molex 39-01-2200
Terminals: Molex 39-00-0168,Molex 44476-1111
Maximum current per circuit: 6 amps
References